I have some dress updates for you guys!
Sooooo the sparkly one came today (YES Zappos!) and while I like it, I'm second guessing the formality of it in favor of something more fun, and it also is a bit clingy in places I'd prefer it weren't, if you know what I mean. (you know that pencil skirt pouch that gets created around your stomach/lap? kind of like that).
AND Tadashi Shoji doesn't have either of the ones I want in any size that I can wear, and basically is never going to get them. So fuck 'em.
I just called Kate Spade to see if this dress in cream was available anywhere around here to try on. It isn't, but the lovely lovely woman on the other end of the phone is sending me two sizes of it, with free overnight shipping, free returns, AND 25% off! I wanted to kiss her, especially since it was more money than I wanted to spend anyway.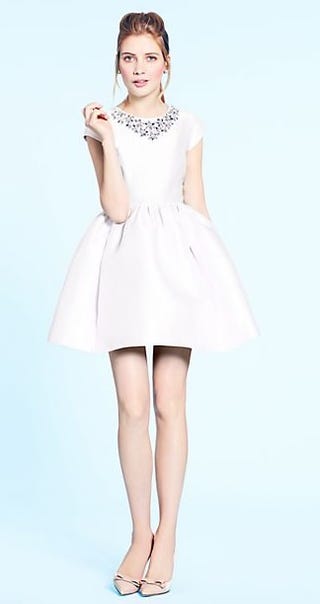 I'm feeling like maybe the cute, fun vibe might be more what I feel like for a pop up wedding? And with a short dress I would not be worrying about length (the sparkly one is super duper long and I'd have to get it altered, plus worry about tripping all night). This one is a lot more casual but I still really love it and think it could be spiced up with some fab accessories and like sparkly shoes or something.
Anyway, thanks for you guys' opinions on the last thread, and Kate Spade is awesome! Yay customer service!