In case you missed this on Twitter, let me help you get caught up. A Philadelphia Fox TV reporter made a glib reference to Breaking Bad in a tweet about six people being shot. Then, when the Twitterverse proceeded to call out for being insane, she chastized them for missing her point about being 'real life. not TV ending.'
Thought "Breaking Bad" was hot last Sunday? @FOX29philly See who's breakin' bad in SW Philly leavin' 6 people SHOT - Tonite at Ten!

— Joyce Evans (@JoyceEvansFox29) October 7, 2013
OH and in case you thought she was hacked or making a mistake or joking around, she clears that up for you!
Last tweet NOT AST ALL A JOKE. Very real life drama was the point as oppose to one that end on tv. That was my point

— Joyce Evans (@JoyceEvansFox29) October 7, 2013
And the Internet responded with a resounding "WTF?"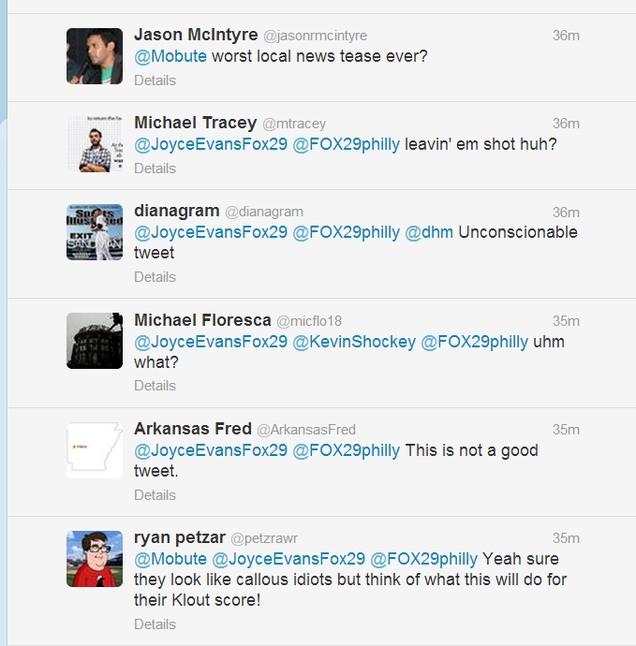 S
. @JoyceEvansFox29 @FOX29philly Can't wait for the return of "The Walking Dead?" Child hit by bus, legs severed, might not survive!

— K. Thor Jensen (@kthorjensen) October 7, 2013
"Umm, hey Joyce do you think it's maybe kind of awful for a NEWS REPORTER to joke this way about a story about a shooting? Just you know. Sayin'...."
@Frog_sox @FOX29philly Not a joke . Miss my point Very real life. not tv ending

— Joyce Evans (@JoyceEvansFox29) October 7, 2013
LOL SAY WHAT NOW?

Oh well. Honestly, this is probably the best, most in-depth, multi-layered observational, nuanced statement she will ever maker. For a Fox reporter, this tweet is the equivalent of "The Road Not Taken." It's pretty much the best we could ever expect.