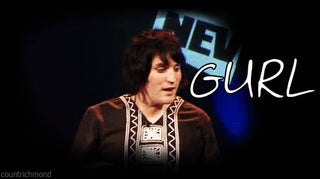 S
I am genuinely curious about this subject! I was reading how everyone HATES being called honey, sweetie, kiddo, etc. and will REND anyone who does so. I was thinking about it, and I basically agree. I thought...if a guy were to call me that, I would shred his eyeballs. If a waitress calls me hun, or honey, or sweetie, it doesn't bother me at all. Friends and family, that's fine. Then I thought about it deeper, and I realized that there are exceptions to the guy thing... You have to realize, my adulthood has been..I dunno how to describe, but since I was about 18 or 19, I have spent an awful lot of my time surrounded by many, many Irish men. Like, I learned how to drink properly (well, sometimes not so properly) from them, I learned a lot of drugs from them (that I did not end up becoming a user of, don't worry), I learned New York from many of them, music, etc. And many of them, not all, but many of them, do use nicknames like that. Darling, Love...those are probably the biggest two. "How are ye darlin'?" or "Ya all right, Love?" stuff like that. That's never bothered me. In fact, I think most girls quite like it. Also a lot of bartenders (like American ones) in New York go up to girls and say "what can I get for you Sweetheart?"...I've never been offended by that, I've never really considered it. It just seems a part of the culture. If it felt forced, or obnoxious, I would I guess. I wonder what other people think about this?
Anyway, so it just got me thinking about nicknames. I've always had a million nicknames. Nicknames are HUGE in my family, to the point where when a family member says my real name, it surprises me, because my name doesn't roll off any of their tongues too often. As a result, I come up with nicknames for others very frequently. But I've been known to say 'hun' to ask someone how they are or to comfort them, or something. I call people 'buddy' or 'pal' or 'friend' a lot. Not just randoms, but like...people I know and like. I call my closest girl friends 'love' or maybe 'babe' sometimes. Mostly I just call people dude a lot.
Anyway, what are people's thoughts on all this stuff??
S
ETA: during this discussion, I have thought of something (besides condescending nickname usage) that I DO hate! I can't stand it when someone very casually shortens my name when we aren't friends! I have ZERO problem with my name being shortened by someone I like. Or even like.. I have a doctor who shortens my name, and that doesn't bother me, because he's nice. But I've had guys at a bar meet me, and IMMEDIATELY shorten my name after I've told them it (the full version of it), and it is gross. It feels like they've touched you intimately or something. It's weird, but it's true!