Sigh.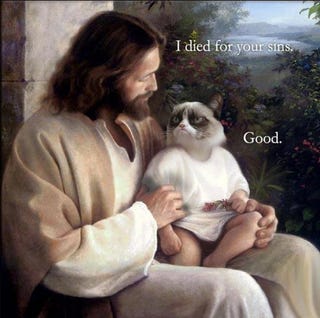 MrDusa is picking up a kitten from one of his friends who has two litters shes trying to find homes for (yeah, she sounds like a wicked responsible pet owner... NOT.)
Kitten doesn't have shots; will need them.
Kitten is not fixed; will need to be.
Kitten will need food; which we don't have and can't really afford.
Kitten will need to be protected from the dogs; guess who will be in charge of this while MrDusa works?
I am cranky about this kitten. I am not a huge cat fan.
MrDusa mentioned the kitten to me last week and I told him I wasn't too keen on getting another cat right now, for the aforementioned reasons. But he misses his old cat Grady who disappeared two years ago. Grady was an indoor/outdoor cat who just never came home one day, a lot of the neighbours have lost cats to coyotes and dogs around here and thats what we think happened to him. What's to say this new cat won't suffer the same fate if its allowed out?
Anyhow, I'm cleaning the house now. You know, because I want to make a good impression on this kitten. I suppose we'll have to go to the dollar store later on to get a couple cat things for this unit.
Yay.
Not.