Groupthink Holiday Recipe thread! What say we share our favorites; maybe we could put together a little GT cookbook at the end. Whaddya say?
UPDATE: And here they come! Recipes will be posted below, so you don't have to hunt through the comments to find them.
---
Fluffybutt's Mac & Cheese (or, How I Woo The Menz):
Ingredients:
12 oz shells (so one box of shell pasta)
About 1 cup of heavy cream
About 1 1/2 cups whole milk
3 teaspoons of flour
1/2 teaspoon of salt
1/4 teaspoon of pepper
2 cups (packed) of grated Fontina
3/4 cup (packed) of grated Parmesan
3/4 cup (packed) grated mozzarella
Bacon (optional)
Directions:
Preheat oven to 450 degrees.
If using bacon, cook bacon now. Don't make it too crispy because it'll cook more once it's in the mac & cheese. Set bacon aside, and once it's cool chop it into small-ish bite-sized pieces.
Grate all the cheese and put aside. You can put it all in one bowl if you'd like, or keep them separate. Butter a 13 x 9 inch glass or aluminum baking dish and set on the side.
Cook the shells in a large pot of boiling salted water for about 7 minutes. They should be cooked well but still firm.
While shells are cooking, whisk together cream, milk, flour, salt, pepper in a large bowl (you will be adding the pasta to this bowl, so make sure it's large enough). Do not dump all of the liquid in at once. Put about half-3/4 of the liquid in first, then add more as you see fit after you put the pasta in. I just eyeball the liquid entirely, so my measurements are just estimates, but I promise they're close.
In the same bowl, stir in 1 cup Fontina, 1/2 cup Paremsan, 1/2 cup mozzarella (so, about 3/4 of the total cheese combination) and bacon if you're using it. Add the pasta and toss to completely coat it (also adding more cream and/or milk at this point). The finished product in this bowl should have slightly more liquid than pasta.
Carefully transfer mixture to the baking dish and sprinkle the remaining cheeses on top. Bake for about 20-25 minutes, or until the sauce bubbles and the cheese on top begins to brown. Once you take it out, it will still be kind of liquid-y, so let stand for about 10 minutes before serving and it will become more solidified.
If you're making this in advance, make it all the way through but only bake for about 15-20 minutes. When ready to serve, bake for another 10-15 minutes. 3 minutes ago
---
2 or 3 lbs of chuck roast chunked into cubes
3 carrots peeled and chunked
3 celery stalks, chunked
2 potatoes, chunked
One half a whole onion, left intact so it can be removed later.
salt, pepper, 1 1/2 cups chicken or beef stock, 2 bay leaves, shaking of paprika, 2 or 3 clove garlic, swig of Worcester sauce. Heat on Low for 8 to 10 hours.
Be sure someone is watching the CrockPot or it might burst into flames.*
* not really 25 minutes ago
---
Two Fudges from loveabull3!
The Fudge that almost killed my grandma-in-law
1 (12-ounce) package semisweet chocolate chips
1 (14-ounce) can sweetened condensed milk
1 tablespoon butter
1 tablespoon cream
1/2 cup milk chocolate chips, if desired
Place chips and milk in microwave safe bowl. (You can use just the one package of semisweet chocolate chips, or add the milk chocolate chips for a fudge that is slightly sweeter and creamier.) Microwave on medium power for 2-3 minutes, stirring after 2 minutes. Microwave, stirring at 1 minutes intervals, until chips are melted and mixture is smooth and thick. Stir in butter and cream until combined. Pour into greased 8" square pan and cool. 33 minutes ago
AND
The Baileys fudge that made me a God
2 cups granulated sugar
1 stick unsalted butter
1/3 cup heavy cream (40% milk fat)
1/2 cup plus one tablespoon Baileys Irish cream
2 cups good quality white chocolate chips
1/2 vanilla bean scraped, reserving seeds
7 ounce jar marshmallow creme
Line a 9x9 inch pan with foil and coat with a little butter or nonstick spray. Combine sugar, butter, heavy cream and Irish creme into a heavy bottomed sauce pan and bring to a boil over medium heat. Once boiling, attach a candy thermometer and reduce the heat to a hair above medium low and cook for 7-10 minutes until your thermometer reads 234°F , stirring constantly. Once your mixture hits the appropriate temperature, remove from heat and add the white chocolate chips, stirring vigorously with a wooden spoon until the chocolate has melted and the mixture is smooth. Add the vanilla bean and marshmallow creme and mix until well blended. Pour the mixture into your prepared pan and allow to cool on a wire rack until room temperature. 30 minutes ago
---
atxcatranger's Memory Mish-Mash Green Bean Casserole
Makes 8 servings (unless everybody in your house likes garlic as much as we do on the cat ranch and then it makes fewer)
-3 cans (15oz) French cut green beans, drained (gotta be French cut)
-2 cans (14 oz) artichoke hearts, drained
-2 cups Italian bread crumbs
-1 cup grated Parmesan cheese (my grandma always used the Kraft cheese in the shaker can. I use the fresh stuff and honestly? Mine never comes out quite "right.")
-an assload of fresh garlic, chopped and minced and squished (this was my papa's job, running all the garlic through the press)
-olive oil (the recipe I found calls for 1/2 cup, but I'm almost certain my grandma uses closer to a cup (??) Basically, you mix it all together and bake it, so I'd say add enough olive oil until it looks right to you.)
-salt and pepper to taste, of course
Preheat the oven to 400. Chop up your artichoke hearts. You don't have to get crazy, just a good solid chop so they kind of "blend in" with the green beans. Mix all of the ingredients and about 1 1/2 cups of the bread crumbs in a big bowl. Here's where you can play with the olive oil. You've got a lot of bread crumbs in there, so I'd say go ahead and get crazy with the oil, otherwise it comes out kind of...odd.
Put all that oily, garlicky goodness in a 9x13 baking dish. Cover with the remaining bread crumbs (and more cheese, if you're feeling fancy), drizzle with more oil (note, "low fat", "diet" or "low calorie" did not appear anywhere in my initial comment), cover with foil and pop it in the oven for 30 minutes. Take the foil off and bake it for another 10-15. Take out, let sit for a few, apply directly to face.
---
Okay, this is not strictly a holiday recipe, but these are the most amazing pretzels you have ever had and I guarantee that if you make them instead of rolls, everyone will love you. Also, this recipe is not hard. I've made it several times in a crappy dorm kitchen with no trouble.
Buttery Soft Pretzels
4 teaspoons active dry yeast
1 teaspoon white sugar
1 1/4 cups warm water (110 degrees F/45 degrees C)
4-5 cups all-purpose flour
1/2 cup white sugar
1 1/2 teaspoons salt
1 tablespoon vegetable oil
1/2 cup baking soda and 4 cups hot water (for baking soda bath)
In a small bowl, dissolve yeast and 1 teaspoon sugar in warm water. Let stand until creamy, about 10 minutes.
In a large bowl, mix together flour, 1/2 cup sugar, and salt. Make a well in the center; add the oil and yeast mixture. Mix and form into a dough. If the mixture is dry, add one or two tablespoons of water.
Knead the dough until smooth, about 7 to 8 minutes. Lightly oil a large bowl, place the dough in the bowl and turn to coat with oil. Cover with plastic wrap and let rise in a warm place until doubled in size, about 1 hour.
Preheat oven to 450 degrees F (230 degrees C). In a large bowl, dissolve baking soda in hot water.
When risen, turn dough out onto a lightly floured surface and divide into 12 equal pieces. Roll each into a rope and twist into a pretzel shape. [Pro tip #1: pretzels taste just as good if you tie them into knots or just make little rolls, and it's way easier. Plus then you're not eating pretzels for dinner, you're eating fucking delicious rolls.]
Once all of the dough is all shaped, dip each pretzel into the baking soda solution and place on a greased baking sheet. Sprinkle with kosher salt/cinnamon sugar/garlic salt/other topping of choice. [Pro tip #2: skip the baking soda bath and dip in/brush with melted butter instead just before you top and bake them.]
Bake in preheated oven for 7-8 minutes, until browned.
[Pro tip #3: Once they come out of the over feel free to dip them, still hot, in more melted butter and cinnamon sugar (assuming that's what you topped them with, because that's the best topping). This is best done alone, over the stove, without any shame.] 3 minutes ago
---

(basically a crustless pie, but I live in Texas, so, go big or go home)
Instead of boiling the sweet potatoes, I like to cook them in a crock pot. Yes, you can do it. It works out very well if you are using them in a mash of some kind. Not so much if you want to serve them as baked sweet potatoes. Wash and scrub however many sweet potatoes you can fit in the crockpot (for my casserole, I use ~10-15 depending on the size). Do not dry off the potatoes. Place them in the crock pot and cook for 10 or so hours on low. If this is for a holiday, I'd do this the day before. Peel and mash potatoes with a fork and set aside.
Now for the actual casserole:
4 1/2 pounds sweet potatoes
1/2 cup granulated sugar
1/2 cup brown sugar
1/2 cup butter, softened
1/4 cup milk
2 large eggs
1 teaspoon vanilla extract
1/4 teaspoon salt
3 cups miniature marshmallows
Preparation
Preheat oven to 350°. Beat mashed sweet potatoes, sugars, and next 5 ingredients at medium speed with an electric mixer until smooth. Spoon potato mixture into a greased 11- x 7-inch baking dish. Bake at 350° for 30 minutes. Remove from oven; let stand 10 minutes. Sprinkle marshmallows over the casserole; bake 10 minutes until brown. Let stand 10 minutes before serving.
So so so so bad for you, but soooooo good. If you eat this, you can basically skip dessert :P
AND
1 unbaked 9-inch pie crust, homemade or store-bought (I use chocolate graham cracker)
2 large eggs
1/2 c flour
1/2 c granulated sugar
1/2 c packed brown sugar
3/4 c butter, softened (sticks, no margarine/butter substitutes!)
1 c semisweet chocolate chips
1 c chopped pecans (optional)
Preheat oven to 325°. Beat eggs in large mixer bowl on high speed until foamy. Beat in flour and sugars. Beat in butter. Stir in chocolate chips and nuts. Spoon into pie shell. Bake at 325°for 55 to 60 minutes. Cool slightly. I prefer it warm with ice cream, but it is also delicious cool. It keeps well, so making it a day or two ahead is totally reasonable.
---
My mom is Jewish, my Dad is Catholic. Christmas eve is our time as a nuclear family to hide from relatives, enjoy quiet time together and eat something that isn't goddamn latkes or turkey. You can basically put whatever you want on em, they're great for a crowd and just the thing if you have to work retail and don't want to make anything fussy.
1 bag taco chips
Cheese—lots of cheese
Protein— I'm partial to black beans because kosher, but ground beef and chicken are tasty too
Veggies: Mushrooms, spinach, orange peppers, corn and red onions all hold up really nicely. Tomatoes are good but tend to make the whole operation soggy
Extras that not everyone likes: roasted garlic, hot peppers— fresh or canned (mezetta makes 'de-stung' jalapenos), olives! (I love em, not everyone does), artichokes (ditto)
Method: Preheat broiler, line baking dish with tinfoil (easeier cleanup). Place a layer of chips and a layer of cheese in pan, broil till bubbly. Remove, add second layer of chips and cheese. Add toppings, distributing evenly. Broil till bubbly.
Serving suggestions: salsa, sourcream,
Easy guacamole: 1-2 ripe avacados, 2 roma tomatoes, 1 small white onion, 1 jalapeno, 1 bunch cilantro, juice of one lime. Chop all ingredients but lime, mash with a fork and squeeze lime juice to taste!
Beer suggestions: New Belgium fat tire, Sierra Nevada IPA, Deschutes Red Chair
Best served on disposable plates ;)
---
Katedaysaweek's Gran's Hershey's Kiss Peanut Butter Cookies
Ingredients:
1 c. shortening
1 c. creamy peanut butter
1 c. light brown sugar, lightly packed
1 c. granulated sugar, plus extra for rolling the dough
2 eggs
1 tsp. vanilla
2 c. AP flour
1 tsp. baking soda
1 bag of Hershey's Kisses, flavor of your choice
Preheat oven to 325 F.
In a very large bowl, cream together shortening, peanut butter, brown and white sugars, eggs, and vanilla. Add and mix flour and baking soda. Once dough is combined, roll into 1" balls. Roll balls in extra granulated sugar for, as my Gran says, "extra kick."
Place balls on lightly greased baking sheet, a couple inches apart. Flatten slightly with your hands. Bake for 10 minutes, or until golden. Remove cookies from oven, and while still hot, place the Hershey's Kisses in the center of each cookie. A couple minutes later, go back and give each Kiss 1/4 twist. (This gives it that characteristic melted look.)
Let cool and enjoy! Makes around 36 cookies.
Note: Cookies can be frozen and thawed if you are making in advance of the holidays.
AND
Super southern, y'all. You can adjust the spiciness to your tastes.
Ingredients
2 c. corn meal—plain yellow, NOT self-rising
2 tsp. baking powder
1 tsp. salt
1 1/2 c. milk
1/3 c. vegetable oil
2 eggs, unbeaten
1 can whole kernel corn, drained
1/2 - 3/4 c. chopped jalapenos (if you shy from spicy, remove seeds first)
1 c. grated cheddar cheese, the sharper the better
Preheat oven to 400 degrees F. Mix together corn meal, baking powder, salt, milk, oil, and eggs until combined. Add corn, jalapenos, and cheese. Stir until incorporated. Pour into greased 10x13" baking dish or pan. Bake 25-30 minutes until lightly browned.
Makes 1-20 pieces of cornbread, depending on how you slice it. Serve with your favorite chili!
---
Sorcia's Jizz-Inducing Pumpkin Crunch Cake
Look, all I'm saying is this thing tends to make people dampen their drawers. Usually. So maybe don't share with your ENTIRE family unless you want to see your grandma's O-face.
You'll need:
1 (15 ounce) can pumpkin puree
1 (12 fluid ounce) can evaporated milk
4 eggs
1 1/2 cups white sugar
2 teaspoons pumpkin pie spice
1 teaspoon salt
1 (18.25 ounce) package yellow cake mix
1 cup chopped pecans
1 cup margarine, melted
1 (8 ounce) container frozen Cool Whip, thawed — optional
Preheat oven to 350. Lightly grease one 9x13 inch baking pan. Or you can butter it. Don't much matter.
Combine pumpkin, evaporated milk, eggs, sugar, pumpkin pie spice, and salt. Mix well, and spread into the prepared pan. Sprinkle cake mix over the top of the pumpkin mixture. Don't touch it. Sprinkle chopped pecans evenly over the cake mix, then drizzle with melted margarine.
Bake for 1 hour — 1 1/2 hours minutes or until a toothpick comes out clean. Top with Cool Whip IF YOU MUST.
---
This is adapted from a recipe from Dinners for Two (an engagement gift from someone who knows I am a pretty dedicated amateur chef). The original full recipe was for poaching a steak, then using the poaching liquid to make the sauce. I tried that once, intrigued, and vowed never to do it again...but the sauce. The sauce had so much potential. The original recipe also includes butter and mint - both totally unnecessary, since what is amazing about this sauce is that it is creamy and horseradish-y and beefy all at the same time. It is a food group on its' own.
Ingredients
One 14 oz. can Swanson Vegetarian Vegetable broth
1 package 0.5-1.0 lbs cubed stew beef
2/3 c. heavy cream (whipping cream for the UK crowd, though I bet double cream would be awesome)
2 teaspoons grated prepared horseradish (or 1/2 tsp. grated fresh)
Instructions
Combine the cream and horseradish, so the cream becomes horseradish scented. (You may do this hours ahead of time and let it sit in the refrigerator, if you choose. The longer it sits, the more horseradish-y the sauce.)
Poach the beef uncovered in the vegetable broth over medium to medium-high heat using a small, heavy bottomed pot. This can take anywhere from 45-60 minutes. Reduce until no more than 1-2 tbsp. of broth remains. Remove beef and discard.
Add the cream/horseradish mixture to the reduced broth and bring to a slow boil for a minute or two to thicken the sauce slightly (the back of a spoon should be evenly and moderately coated). Serve immediately.
Chasmosaur's Notes
During the poaching/reduction process, do NOT skim the foam - you actually want *all* the meaty bits. This is not a low-fat sauce anyway.
Less concentrate at the end of the reduction process is better - it enhances the flavor. Aim for 1 tbsp.
One of those small tea-light fueled fondue pots is *perfect* for keeping the sauce warm if you can't serve it immediately, or simply need the burner on the stove for other things. Small ladles fit nicely in the pot, and you just have stir it occasionally since the cream will develop a bit of skin if you don't.
A little bit of this sauce goes a long way, but if you want to double the recipe for a larger crowd, you *must* do two separate reductions that are added to the doubled cream. Using one reduction of 2-4 tbsp. in that volume of cream simply does not provide the same intense taste. Start the reductions at the same time, combine them both into one pan when they're ready, and then add all the cream immediately.
As the reduction process can take anywhere from 45-60 minutes, this is not a "last minute" or even a "while the steak cooks" sauce. I will sometimes reduce in two steps - I'll use about 85% of the beef (using all the largest pieces), reduce to about 4 tbsp and remove the beef. (If you're doing this first step on the same day, keep the concentrate steamy-warm - but not simmering - in a covered pot. If you're doing it the day before, scrape the pan thoroughly into a small, covered container and store in the refrigerator, then nuke it for 30 seconds to warm it up and melt the fat before putting it back in the pot. You should only do no more than one day ahead of time.)
When you get closer to serving, add the remaining beef (which should be in all small pieces since you won't be cooking for long or in much liquid), and bring the heat back up under the concentrate so it starts boiling/reducing again. This greatly reduces the reduction time needed closer to dinner.
Now...if you like the CONCEPT of a nice horseradish cream sauce but don't want to put this much effort in, the cheater's version is add prepared horseradish (the good, spicy kind you find in the refrigerated section of the grocery store) to creme fraiche. Add a little at a time and let it sit to make sure you don't over do. ;) Today 1:44pm
---
My favorite banana bread recipe, usually made around 1:30am after the girl FINALLY goes to bed Christmas Eve. While Mr Nobody puts together whatever god-forsaken-overpriced-plastic crap she will look at twice and then ignore for the rest of time, I make banana bread and my world famous cinnamon rolls for when his family descends on us like locusts at dawn. There is a lot of swearing and wine in our Christmas Eve!
Banana Pecan Bread Recipe
Prep time: 5 minutes
Cook time: 1 hour
Yield: Makes one loaf.
INGREDIENTS
3 or 4 super ripe bananas, smashed
1/3 cup melted butter
1 cup sugar (can easily reduce to 3/4 cup)
1 egg, beaten
1 teaspoon vanilla
1 teaspoon baking soda
Pinch of salt
1 1/2 cups of all-purpose flour
1 1/4 cups chopped pecans, separated (can sub walnuts, or leave out all together!)
METHOD
No need for a mixer for this recipe. Preheat the oven to 350°F (175°C). While mixing batter, toast 1 cup of pecans on a cookie sheet in the preheated oven for 10-15 minutes, until they are golden. With a wooden spoon, mix butter into the mashed bananas in a large mixing bowl. Mix in the sugar, egg, and vanilla. Sprinkle the baking soda and salt over the mixture and mix in. Add the flour, mix. Stir in toasted pecans. Pour mixture into a buttered 4x8 inch loaf pan, sprinkle with UNTOASTED 1/4 cup pecans. Bake for 1 hour. Cool on a rack. Remove from pan and slice to serve.
---
RenoDakota's Pumpkin Cheesecake with Caramel
I make this every Thanksgiving because I can't stand the texture of pumpkin pie. I took it to my college boyfriend's family's dinner, and his mom exclaimed, "This is better than sex!", very much embarrassing his little sister.
INGREDIENTS
Crust - 3 cups graham cracker crumbs; 1/4 cup dark brown sugar (firmly packed); 1/2 stick unsalted butter (melted).
Filling - 4 of the 8 oz packages of cream cheese, softened; 1 2/3 cups sugar; 1.5 cups canned pumpkin; 9 tablespoons whipping cream; 1 heaping teaspoon of ground cinammon; 1 teaspoon all spice; 4 large eggs; 1-2 tablespoons caramel sauce (I buy it, but I can see using homemade dulce de leche or something)
PREP
Preheat oven to 350 degrees.
For the crust, combine the graham cracker crumbs and brown sugar. Add the melted butter and mix until combined. I always just use my hands to mix it because I never had a food processor. Press the crust into the bottom and about an inch up the sides of a 9-inch springform pan.
For the filling, in a large mixing bowl, beat the cream cheese and sugar until it is light and fluffy. Set aside 3/4 cup in a small bowl, cover and refrigerate. This will be used later with the caramel topping. Add the pumpkin, 4 tablespoons whipping cream, cinnamon and allspice, beating until well combined. Add the eggs one at a time, beating until combined after each addition. Pour the filling into the crust and bake about 1 hour, 15 minutes. The cheesecake should be puffy with a browned top, but it should still jiggle in the middle when moved. Transfer it to a baking rack to cool for 10 minutes, then run a knife around the edge to loosen the cheesecake from the pan. Cover and refrigerate until completely cooled - overnight is best, but if you make it in the morning and then do the topping at night, you should also be fine.
Once the cheesecake is completely chilled in the fridge, take out the 3/4 cup of cream cheese and let it come to room temp. Add 5 tablespoons whipping cream to the cream cheese and stir until combined. Smooth this cream cheese mixture onto the top of the cheesecake. Take the caramel and drizzle it over the top of the cheesecake. If you have a deft hand, you can use a piping bag and make a design, but I prefer to drizzle the caramel and then use a knife or spoon to marble it with the the cream cheese mixture.
I also sometimes pipe homemade whipped cream around the edges or serve it on the side. It's not necessary, though. For homemade whipped cream, I take a pint of whipping cream, but it in a stand mixture, and add a little less than a tablespoon of white sugar. It's not super sweet that way, which is what I prefer. Turn the mixer on the highest setting and whip until fluffy and peaks form in the cream.
---
Soup R Crackers' Stewed Butternut Squash with Apples and Bacon
Ingredients
1 Butternut Squash- peeled and cubed
1 pound bacon- chopped (you can use less bacon if you want)
2 granny smith apples- chopped
2 garlic cloves- minced
1/2 white onion- chopped
2 tablespoons unsalted butter
a pinch of thyme
1 tablespoon salt
1 tablespoon pepper
1/4 cup maple syrup
2 cups chicken stock
Directions
Cook up the bacon in a medium saute pan. Once the bacon is finished, clean most of the grease out of the pan, put your desired amount of bacon back in and add the onions. Cook until the onions are caramelized. Add the garlic, chopped apples and butter and stir until the apples are tender. Add the squash and increase the heat for about five minutes. Stir and add the thyme, salt and pepper. Add the maple syrup and the stock. Bring the liquid to a boil, cover the pan and reduce the heat to medium. Cook covered for fifteen minutes. Voila! An excellent Thanksgiving side dish. Today 1:48pm
---
(These are everyone's favorite and they're so easy!)
4 sticks butter - salted, room temperature
4 cups all purpose flour
2 cups powdered sugar
1 tsp vanilla extract (Really? I add a lot more. Just do it to taste.)
1 1/2 pack chocolate chips ( I like the Ghiradelli 60% cocoa baking chips. The chips are bigger and more chocolatey. But anything works.)
Preheat oven to 350 and make sure you wash your cookie sheet you filthy animal.
Mix butter and vanilla extract then add sugar. Add flour one cup at a time until dough has thoroughly mixed together. Add the chocolate chips and mix in. Feel free to eat some cookie dough before moving to the next step. (Also this freezes great, so make ahead!)
Scoop tbsp of mixed dough for each cookie and roll into a ball with the palm of your hand. Press onto cookie sheet so it's slightly flattened. They don't spread out too much, but give them room to breathe.
Bake at 350 for about 10-13 mins. You need to start watching these guys somewhere around the 7-8 minute mark. (Once you know how many minutes it takes in your oven these cookies require less watching.) The dough will go from glossy to matte. A couple of minutes after they become matte, you need to gently peek under the edges of the cookie to see if they are golden brown. These are shortbread cookies, they will always be very pale on top. If you wait for the tops to brown, you will have black bottoms and a very burnt gross cookie. When the bottoms are a golden buttery brown, and the tops are still white, it's time to pull them out. Wait 2-3 mins for cookies to firm up and then move them to cooling racks. (Or, eat them! NOM!)
---
rdcedar's Sweet Potato Casserole that she'll never be able to NOT make again:
5 sweet potatoes
1 package of cream cheese (you may or may not use the whole thing)
1 stick of butter (you may or not use the whole thing) (and if you MUST, you can even use salted butter)
The following spices, adapt to your individual tastes: fresh ground pepper, salt, garlic powder, ground ginger, cinnamon
To assemble:
1. Preheat oven to 400F
2. Place whole sweet potatoes in an oven safe dish or on a cookie sheet and prick each one a few times with a fork. Roast these in the oven until they pass the fork tender test, anywhere from 45 min to an hour. Once they are done, remove from the oven and let cool a bit. This step can be done ahead of time.
3. While potatoes are roasting, let the cream cheese and butter come to room temp, this makes the mixing and smashing a lot easier!
4. When the potatoes are cool enough to handle, remove the skins.
5. In a large bowl, mash together the potatoes, the cream cheese, and butter. I would suggest adding the dairy in stages so that you can adjust the creamy factor to your liking.
6. Once the potato and dairy are combined, go crazy with the spices. This is definitely a dish that you can tailor to the other items you're serving.
7. Transfer the mash to a baking dish. Bake at 400F until the mash is warmed through. Time will vary depending on how warm the mash is when you put it in the oven.
Notes: We use the white sweet potatoes and not the orange yams. The sweet potatoes tended to have a creamier texture than the yams after roasting. Also, sweet potatoes can explode in the oven and will do so happily if you don't prick them.
Optional topping: If you want you can add a crumb topping of chopped pecans, brown sugar, and more butter to the top of the potatoes before baking the second time. The very southern roommate who I learned this recipe from served her's this way. It is way too sweet for my family's taste, but to each their own, right?
ETA: Somehow I missed RedHandedJill's Sweet Potato Casserole. Sorry for the repeat!
---
Wine-Ranger Red Curry Sweet Potatoes
Cook/bake/microwave as many sweet potatoes as you think you will need (the deep orange ones are the prettiest for this dish)
Drain/scoop out the potatoes into a bowl or your food processor
Put a couple of spoonfuls of red curry paste in the bowl with the potatoes. Be brave, do not wimp out.
Shake a can of FULL FAT IT'S THE HOLIDAYS FOR GOD'S SAKE coconut milk well, open it and start pouring some into the bowl with the curry paste and potatoes.
Mash/whip/process until creamy and yummy. Serve piping hot.
Note: This can be made a couple of days ahead and transports well. People will think you are a genius. Today 2:46pm
---
I know these sound super weird, but they are really good. My mom never tells anyone what is in them until after they try one. When I was more vegetarian, they comprised the bulk of my Thanksgiving meal.
3 cups fresh spinach, stems removed
1 medium orange, seedless and halved
4 large eggs
1 and 1/3 c vegetable oil 2 and 1/4 cup granulated sugar
1 cup chopped pecans
4 cups all-purpose flour (whole wheat works too)
1 and 1/4 tsp salt 1 and 1/4 tsp baking soda
3/4 tsp nutmeg
1/2 tsp cinnamon
1/2 tsp baking powder
Preheat the oven to 350 degrees. Grease a muffin pan, even if it is nonstick. Wash the spinach and drain well. Cut into 1/4 inch ribbons. Cut the orange in half and grind in a food processor, one half at a time. Beat eggs in a large mixing bowl. Then add the sugar and oil and mix well. Stir in the spinach, orange, and pecans. Sift together dry ingredients, then add to the liquid ingredients until just moistened. Do not over mix. Spoon into muffin pan and bake on the middle rack of the oven for 15-20 minutes and turn the pan halfway through. When done, a toothpick inserted in the center should come out clean. Let cool in the pan for 5 minutes, then on wire racks. They are best served warm, so if you make them ahead of time, warm them in the oven or microwave before serving. Makes 2 and 1/2 dozen muffins.
---
Ingredients:
6 oz raspberry Jello
16 oz can of WHOLE cranberries
20 oz can of CRUSHED pineapples (drained)
8 oz sour cream
1 3/4 cup boiling water
Directions:
Dissolve Jello in boiling water. Add cranberries and drained pineapple to jello mixture.
Pour half of the mixture into a suitable container.
Refrigerate until firm. Spread all the sour cream onto the salad and add the remaining Jello mixture.
Refrigerate until the top layer is firm. Serve and have your husband and father-in-law fall at your feet and beg for more. 16 minutes ago
---
It's not 100% traditional: My recipe is better because it's not so heavy on the coconut.
2 cups orange pineapple juice
1/2 spiced rum
1/4 cup malibu (or other coconut rum)
1/4 cup apricot brandy
I mix up a big jug all at once. It stays good for days and it ALWAYS a hit at parties. Also with children, so keep an eye on your drinks people. Drunk children are not as funny as you'd expect. (Hint: They vomit.) Yesterday 8:31pm
---
My dad used to make these at Thanksgiving (well, maybe he does still. This will be my tenth Thanksgiving away). Even before I liked mushrooms, I loved these.
Ingredients:
1 lb small mushroom caps
1/4 C olive oil
1/4 C Mazola (I just use 1/2 C olive oil. I know Mazola has a higher smoking point, but I don't curr)
1/4 C wine vinegar
2 bay leaves
1 tsp dried chervil
1/2 tsp dried oregano
1 tbsp dried parsley
1 tsp ground dry mustard
1 tsp salt
1/4 tsp pepper
2 tbsp dry wine (optional)
Process:
Place everything except mushrooms and wine in a pot. Bring marinade to a boil, and then add mushrooms. Shake the pot [what are these directions, even?] and stir the liquid until all mushrooms are moist. Cover and cook over medium heat for five minutes (longer if using larger mushrooms). Remove the pot from heat and spoon mushrooms into a jar or tupperware with a slotted spoon. Allow uncovered mushrooms to cool for half an hour, and let marinade cool in the pot. Pour cooled marinade over mushrooms, straining if desired. Add wine. Cover and refrigerate. May be kept refrigerated for up to two weeks. Today 8:19am
---
I adapted this recipe from a medieval Passover cake. It sucked as a cake, but makes fantastic, light-as-a-cloud, melt-in-your-mouth cookie thingies. They're a little delicate, so be careful peeling them off the parchment at the end. Best eaten the same day, or they tend to get a little chewy and deflated.
3 eggs, separated
1 cup sugar
few drops of lemon juice
approximately 2 Tbs balsamic vinegar or sweet red wine
1 1/4 cups chopped walnuts
1/4 cup almond meal
3/8 tsp cream of tartar
1/4 tsp ground cloves
1/2 tsp ground cinnamon
Preheat the oven to 350°F.
In a bowl, mix the nuts. Add the spices, balsamic or wine, and lemon juice to the nuts, stir and let sit for a few minutes.
With an electric mixer (hand or stand) beat egg yolks until lemon-colored, then beat in the sugar 1/4 cup at a time. Set aside and clean your bowl.
Now, beat your egg whites with the cream of tartar until stiff peaks form. Fold in the sugared yolks. Fold in the spiced nuts.
Drop by the teaspoonful onto parchment-lined baking sheets. (I have a feeling that a Silpat would work really well, but I don't have one, so I don't know. If you do try baking these on a Silpat, let me know how it goes, ok?) Bake for 12-15 minutes until dry and golden. Remove from oven, leave on the hot sheets for a few minutes, then transfer (still on parchment) to racks. When cooled completely, carefully peel them from the parchment.
Heavenly with a spot of raspberry jam on top.
---
We do Mexican food for Christmas Eve dinner. We have enchiladas, rice and beans, and flan for dessert, but my favorite part is the starter: Albondigas (Meatball) Soup.
2 pounds lean ground beef
1 egg
1/2 cup masa harina mixed with 4 tbsp warm water to make a small amount of dough
1 tsp salt
1/2 tsp pepper
2 tbsp vinegar
2 tbsp lard (you can do crisco if you want, but it's not the same)
2 tbsp flour
1 1/2 quarts well-seasoned chicken stock
2 green onions cut into 1/2-inch pieces
1 4-oz can mild green California chiles
1 cubed potato
1 cup ripe unpeeled chopped tomatoes (drained canned is an okay substitute)
1/4 cup tomato sauce
4 garlic cloves, finely mashed
1/4 cup fresh mint leaves or 1 tbsp dry mint leaves
1/4 cup fresh cilantro leaves and some stems
Mix meat, egg, masa harina dough, salt, pepper and vinegar and knead to the consistency of soft dough. Make meatballs the size of a ping-pong ball and place on a cookie sheet. Set aside.
In a large pot, melt lard, add flour and brown lightly to make a oux. Now add the chicken stock, green onions, chiles, tomatoes, tomato sauce, garlic, mint and cilantro. Boil and then lower heat to a simmer. Correct seasoning.
While broth is simmering, drop in meatballs carefully and poach for about 30 minutes over low heat, covered. 2 minutes ago
AND
Aurora F's 1940's Egg Nog, Which is the Best Egg Nog
My grandma used to make this for New Year's Day. The recipe came from some drink recipe book from the 40's. It's powerful stuff.
Ingredients:
12 eggs
1 1/2 cups sugar
3/8 quart rum
1 quart brandy
1 1/2 quarts heavy cream
1 quart milk
1 tbsp vanilla
1/2 tsp nutmeg
Beat the egg yolks until light, adding sugar, nutmeg and vanilla while beating. Place in punch bowl. Add the rum gradually, stirring all the time, then the brandy the same way. Let this mixture stand in a cold place from 4 to 24 hours.
Next, add the milk at intervals, a little at a time, until the entire amount is added. Beat 6 of the egg whites and fold into the Egg Nog. Beat the remaining whites stiff (not dry), adding an extra 2 or 3 tablespoonsful of sugar and a teaspoonful of vanilla. Spread this on top of the nog with a spoon or spatula, swirling it as you would cake icing. Then sprinkle with nutmeg. This makes about 50 servings.
(note: This is rich and strong. Halving the recipe is ok. And a longer sitting time is better.)
---
Birdperson (Turkeyperson?)'s Orange Hazelnut Almond "Why The Fuck Haven't You Made Them Again, Get Out And Don't Come Back Until You Have A Batch With You" Biscotti
These things are delicious, and I get accosted for this shit during the holidays. Also, the best part about them being biscotti is that they will literally last for weeks and weeks and still taste great. For whatever reason, the orange flavor doesn't really come through until about a day after you make them. They're still good before then, but they're amazing after sitting around for the first day. The best part about them lasting forever, is that this is the sort of shit you can make in advance, so you have less cooking to do on the day of/day before.
1 c hazelnuts (roasted)
1 c almonds (roasted)
2 c flour (+ add'l for work surface)
1 1/4 c sugar
1 tsp baking powder
1/4 tsp baking soda
1/4 tsp salt
3 tbsp butter (microwave to (near) liquid)
2 whole egg
1 egg yolk
3 tsp vanilla extract
2 tbsp orange zest, fresh

Preheat oven to 350 convection. Toss in the nuts to toast if they're raw.

Mix eggs, vanilla, orange in one bowl.

Mix everything else in another, thoroughly.

Mix liquids into solids, continue beating until everything combines
(should take a bit to get all the dry stuff incorporated).

Turn onto lightly floured surface, and knead until you can get a
coherent, lightly flour dusted ball.

Quarter, roll out into logs, drop on parchment paper on cookie sheet,
bake for ~15-20 min (+5-10 min if no convection), until deep golden brown.

Let completely cool (if you don't, it will fall apart when slicing). Slice as thinly as possible (ideally 1/2 to 1 in). Bake for ~15-20 min on their sides, until the insides are deep golden brown.
AND
I fucking love roast poultry. I have experimented with everything under the sun. This is what works best for me. The salt is for flavor, the paprika is for some flavor and color, and the baking powder dries out the skin so it crisps the fuck up.
- Chicken/Turkey
- Thermometer
- Baking Powder
- Salt
- Paprika
12-36 hours before:
Mix salt, paprika, baking soda. Is your bird kosher/pre-brined/pre-injected? Use a 1:2:2 ratio. Is it natural? Use 1:1:1.
Make sure all the feathers are out. Use a knife and cut some slits in the underside of the bird (the side opposite the breast). Towel the bird as dry as possible. Cover liberally, all over, with the salt/paprika/baking soda mix and rub that shit in. Brush off the extra, then put it in a pan you plan to cook it in, breast side up. Put it in your fridge, uncovered. (The baking soda and the uncoveredness will allow the skin to dry out, so it will get super-crispy when cooked.)
Day of:
Preheat oven to 350. Place pan in oven. Take it out when the dark meat hits 165 F. (To do this, you want to insert your thermometer into the deepest part of the thigh, but not touching the bone. Jam it all the way in until you hit bone, then pull it out a fraction of an inch.) Towards the end, I check the temperature frequently - you can always put it back in for more time, but you can't undo overcooking it.
It may be a touch pale (from the baking soda). If this bothers you, melt some butter, and brush on a thin coating like 15 minutes before the bird is done. This will make it less crispy, but not by a lot.
Let cool for like 10-20m before slicing (you can throw on some tinfoil to keep it warm, otherwise it loses a ton of juices).
---
Oheyo's Crock Pot Roast
I make this the night before then just put it on low all day while I'm at work (so it cooks around 12 hours)
1 pork roast about 5 lbs give or take
5 apples
5 small cooking onions
3 carrots
chicken/beef/veg stock or water
thyme, salt, pepper, a bit of oil
Night before
Chop onions, apples and carrots into largish chunks. Heat up a skillet with a dash of oil. It should be quite hot. Salt and pepper and rub roast with thyme or herb of your choice. Put roast in the hot pan and let it get nice and brown on all sides. Let it sizzle for a bit. You know when it's nicely caramelized because it will release from the pan with minimal prodding. Place roast in crock pot. Deglaze pan with some of liquid, scrapping up the tasty bits. Pour into crock pot. Cover roast with chopped fruit/veg. Add liquid to cover 3/4 of roast. Place crock pot insert (if your's comes out) in fridge with the lid on. The next morning put insert into the crock pot, turn to low and come home to good smells. Take roast out of pot and also take out fruit/veg with slotted spoon. If you want you can put the liquid in a pot and reduce to nice, syrupy consistency. I serve this roast over mashed potatoes/turnip mix, but it would be excellent with a salad and bread if you were in a hurry.
---
Persimmons grow all over Indiana where my family originally came from. American persimmons are about 1" in diameter and are not ripe until they fall from the tree and are very soft. You have to gather them and run them through a "ricer" to separate the seeds and skin from the pulp.
2 cups persimmon pulp
3 eggs (separated)
2 cup sugar (1 brown, 1 white)
2 cup flour
3 cups milk
1/2 cup butter
1/2 tsp salt
1 tsp baking powder
1/2 tsp nutmeg
1 tsp cinnamon
Mix egg yolk, butter, sugar, pulp. Add milk and other dry ingredients.
Beat egg whites and fold into other mixture. Pour into a deep 2 quart baker bowl and bake at 350 degrees for about 2.5 hour, stirring about every 1/2 hour. Serve with whipped cream.
---
Cheese Sauce for steamed broccoli (and everything else, particularly leftovers)
Okay, I think I got the amounts right here. My recipe is very badly photocopied and scribbled over.
2 Tbs flour
2 Tbs butter
1/2 tsp salt
A couple dashes of paprika
1 1/2 cups milk
1 (6-8 oz?) package cream cheese
4 Tbs grated parmesan cheese
1/2 cup shredded Gruyere cheese
1 cup shredded Cheddar cheese
1/2 tsp dijon mustard
A dash of white pepper
In a saucepan, melt the butter, stir in the flour, salt, and paprika over a low heat.Gradually stir in milk, until it thickens up a bit. Stir in the cream cheese. Stir in the cheeses until it's all nice and melty smooth. Stir in the mustard and pepper.
Makes enough for a large family and plenty of leftovers.
---
This recipe goes back to my great grandmother on the German side of our family, Anna. She used to make her spaetzl from scratch, by hand. There are recipes out there for how to do that, but I honestly prefer the taste of the boxed stuff. So this is how I prepare it. We typically double this recipe if we are making it for a holiday dinner.
You will need a large, deep frying pan for this.
One Package of Spaetzl (I always use Maggi brand), cooked according to directions on box. Basically just make it like you would spaghetti, remembering to add salt to the water.
As the spaetzl cooks, brown one pound of sage sausage in a frying pan. Chop up a generous helping of fresh sage into thin ribbons. Dice one large granny smith apple. When the sausage is browned, take it out of the pan, drain off the fat with paper towels. Blot up as much of the sausage grease as you can. Then return it to the pan.
When the spaetzl is tender, drain it and put it in the pan with the sausage. Add the apple and sage. Add between two to four tablespoons of salted butter (your choice, but I usually go with four) to the pan and turn the heat to medium. Let the butter melt a bit, then add one cup of heavy cream. Add salt, pepper, and nutmeg to taste. Stir all ingredients until thoroughly mixed and heated.
This recipe might sound plain, but have faith! The ingredients are simple but magical, especially if you use fresh, high quality sausage.
Serve with fresh potato pancakes, fried apples, and a nice German beer. There will be no leftovers :) Today 4:52pm
So, if you're wondering about the fried apples...
I was like...Friday, they won't know what you mean by fried apples. Ok, what it is, is you slice up about...hmm...8 or 9, maybe, good sized apples. Cutting 'em long-ways, I mean. You have to peel them first. Pat dry with paper towels. Then put them in a pan with quite a lot of butter (half a stick? at least, I bet), cinnamon (a teaspoon, maybe more), and sugar (two teaspoons at least). Cook on medium high until soft. Then serve. They are delicious!
You can also use the leftovers with cooked oatmeal for breakfast. 8 minutes ago
---
scurrer's pumpkin chocolate chip bars
Chocolate Pumpkin Bars
2 cups all-purpose flour
1 tablespoon pumpkin-pie spice
1 teaspoon baking soda
3/4 teaspoon salt
1 cup (2 sticks) unsalted butter, at room temperature
1 1/4 cups granulated sugar
1 large egg
2 teaspoons vanilla extract
1 cup canned pumpkin puree (not pumpkin pie filling)
1 package (12 ounces) semisweet chocolate chips
Cream butter and sugar, then add other wet ingredient. They may look a little funky and kind of chunky, no worries. Blend dry ingredients then mix into wet. Add chocolate chips. Spray or butter a 9x13 pan, add mixture. Bake at 350 for 35-40 minutes
---
Nappyheadedflo'S Sweet Potato Pie (passed down from mother)
Makes 3 pies
3 Large Sweet Potatoes
Stick of Butter
1 egg
1/2 cup flour
1 tsp of baking powder
Lots of sugar (3 cups)
1/3-1/2 can of EVAPORATED milk (i.e. PET Milk)
1 tsp of Vanilla extract
2-3 tsp of nutmeg
2-3 tsp of cinnamon
1-2 dashes of allspice (Allspice can be very overpowering so watch it)
1-2 packs of that Pillsbury frozen pie crust stuff
Supplies
Large pot, cookie sheet, or microwavable bowl for cooking sweet potatoes
Large bowl for mixing pie filling
Potato masher
Large spoon with firm handle (can be alternated with a hand mixer as my mom told me that using a hand mixer is a good way to get the strings out the pie filling)
OKAYYYYYY
You want your Sweet potatoes to be soft when you mix them with the other ingredients. So you can either 1) peel them, cut them into quarters, and boil them until soft, which will be at least a few hours 2) wash potatoes with skin on, place them on a baking sheet, and bake at 350 for at least 1.5 hours or until you can stick a fork in them all the way. or 3) I've heard you can put them in the microwave and cook them until soft and it's much quicker than the last two methods. I have never tried this method however.
So anyway, once your potatoes are cooked and softened, put them (make sure you peel the skin off if you're using the last two methods to cook them) in a large bowl along with the stick of butter and mash with your potato masher until it is in a paste (about 10-15 minutes). You want your sweet potatoes to be warm because the butter melts easier while you mash the potatoes, and you want to mash your potatoes well because if you don't, your filling will be lumpy once you put the liquid (EVAPORATED Milk) in.
Don't 4get to preheat your oven to 350 for the pies...
Once you are done mashing ya taters, add your egg, flour, baking powder, and sugaaaaa. Your potatoes should be cooled down a little by down, so the egg won't scramble/cook when you add it (if your sweet potatoes are still hot, let them cool before you add the eggs n' stuf). Stir very well.
*if you choose to use a hand mixer, I would suggest waiting until after you add your liquids to use it. Until then use a spoon.
Now, add your EVAPORATED milk. It should be in a can. Add, say, 1/3-1/2 of the milk in the can to your filling, or add enough milk to make your filling a smooth, liquid (not too liquidy, but it should have a slightly thicker consistency than cake batter) mixture. Add your cinnamon, nutmeg, allspice, and vanilla extract.
Feel free to taste filling at any juncture (I would suggest after you add sugar because non-sweetened sweet potato paste may not be your thing). Tasting is very important because you may want to add more sugar/cinnamon/nutmeg/vanilla, or not add as much as this recipe requires.
Once you are dunzo with your filling, take out ya pie crust and fill them (make sure you thaw them, if the package requires it) with the filling. Make sure the mixture doesn't go over the edges of the pie crust, as the baking powder will make your pie rise a little. Bake your pies at 350 for 30-45 minutes (or until pies are browned and filling is solidified).
Set ya pies on a safe heat proof surface to cool. Or get out of vanilla ice cream, browned marshmellows, and/or carmelized pecans, get you a slice, and grub on.
---
smmo's Crack Cracker Cookie Things
Preheat oven to 350º
Saltines, probably two sleeves. (You can also use matzohs)
(Enough to cover a cookie sheet)
2 sticks (1 cup) butter. (I would probably use unsalted if you're using salted crackers and vice versa? You heard me Uber.)
1 cup packed brown sugar, dark or light, whatever.
½ teaspoon vanilla extract
1 ½ cup chocolate chips
Extra stuff to sprinkle on top, such as nuts, candy, whatever.
This is the important part – line a cookie sheet with foil or you will have a god-awful mess. If you have nonstick foil, use it. It is magic. Just get some nonstick foil OK? If you don't use nonstick foil spray the foil with cooking spray.
Lay the crackers out on the foil so the cover it completely. You'll have to break up the crackers probably to get into the corners and stuff.
In a small pan melt the butter and brown sugar together over medium heat and bring to a boil. Let it boil for 2 minutes and then remove from heat. Pour it over the crackers and spread in an even layer. Do this right away or it will get thick. Don't burn yourself! Bake for 15 minutes. Keep an eye on it, sometimes the edges can burn, depending on your oven.
Remove from the oven and sprinkle the chocolate chips over it. Let it sit there for a few minutes until the chocolate chips are melted and then spread the chocolate over everything.
Sprinkle with whatever your heart desires. I like Heath or Skor Bits for extra caramel decadence. Nuts? M and Ms? Coconut? More chocolate? A nice finishing salt is good for sprinkling too.
When cool break or cut into cookie like shapes. Eat. This is never not a hit.
---
Chritter's Very Popular Chopped Veggie Salad

I made this salad for a potluck, and it was such a big hit that word had spread among our pals and a command performance was demanded for another recent potluck, where it was also very warmly received. There's a lot of chopping and peeling, but it's fairly foolproof. This amount serves 8-10, so easily halved.
For the Salad:

1 lb bacon
1-1/2 cups cucumbers, peeled, seeded and diced (about 2 cukes)
1-1/2 cups green beans, trimmed (about 6 ounces)
2 cups tomatoes, seeded and diced (2-3 tomatoes)
1-1/2 cups red onion, chopped fine (one medium onion)
2 medium semi-ripe avocados, chopped
6 cups finely chopped hearts of Romaine lettuce (2-3 heads, depending on size)
3 cups finely chopped mixed baby greens (I like to go heavy on the frisée)
For the Dressing:

1-1/4 Cup olive oil
1/2 Cup red wine vinegar
1 tablespoon kosher salt
1 tablespoon garlic powder
1/2 teaspoon black pepper

-slice the bacon into 1/2-inch pieces and place in a pan on medium heat
-add 2 cups water, let boil until water is evaporated, about 15 minutes, then let bacon cook in remaining fat, stirring often to ensure even cooking, until golden and crispy, then drain on paper towels
-trim ends from green beans and cut them into 3/4 inch pieces, bring pot of water to boil, blanch beans for 5-6 minutes, then remove with slotted spoon and plunge into ice water
-cut tomatoes into quarters and get rid of the seedy goo in the middle (you only want the firm parts), then chop those into small chunks
-cut cucumbers in half and use your thumb to scrape the seedy parts out of the middle, then chop into small chunks
-peel and chop avocados into small chunks (ideally you want your avocados to be just barely ripe, a bit on the hard side; mooshy avocado will just disintegrate)
-chop onion, greens and Romaine hearts, throw everything in a big bowl and pour dressing on (don't dress it until RIGHT before you're ready to serve)
-stand back and accept plaudits graciously
Chritter's Tetrazzini To Die For
A big favorite among late-night Jezzies in the subterranean OTs in the pre-GT days, and a PERFECT use for post-turkey-day leftovers...
1/2 cup butter
1 lb. mushrooms
1/3 cup flour
3-1/2 cups chicken broth
1 cup cream
1/3 cup sherry
1-1/2 tsp. salt (or to taste)
1 cup grated parmesan cheese
1 lb. spaghetti, cooked & drained
5 cups chicken or turkey

-Preheat oven to 375º
-In saucepan, melt butter, sauté 'shrooms 5 minutes
-Stir in flour
-Gradually stir in broth, cook till mixture thickens
-Stir in cream, sherry, salt, and half the cheese, simmer 5 minutes, stirring all the while
-Butter open baker or casserole dish, arrange 1/3 spaghetti in bottom, sprinkle 1/2 the turkey, top with 1/3 of the sauce, then spaghetti, turkey, sauce, then spaghetti, sauce. Sprinkle with remaining cheese, bake 35-40 minutes. Makes 8-10 servings.
---
There's a saying about pie, that it "never sleeps" - meaning that the crust gets soggy the next day, so you'd better eat it now. This, however, is pie that sleeps, although most of the time it just gets eaten anyway because it is just heavenly. My mom taught me how to make it and she is a pie maker extraordinaire.
for the crust:
2 cups all purpose flour (I always use King Arthur)
1/2 tsp salt
1/2 cup Wesson or other vegetable oil (these days I use canola)
1/4 cup cold milk (any percentage)
wax paper (NOT FOR EATING, YOU)
Mix the flour and salt. Pour the oil and milk into a measuring cup, but do not stir. Pour liquid all at once into the flour. Stir quickly just until flour mixture can be patted into a ball, then pat into a ball and cut in half. Dampen your counter and put a sheet of wax paper that is a bit larger than your pie plate. Put the first half of the pie crust into the middle of the wax paper and flatten it into a round disk, then put a second piece of wax paper on the top. Roll out the dough between the papers to the correct size for the pan. Take off the top paper and discard, then pick up the second sheet of paper with the crust on it and turn it over carefully onto the pie plate, arranging it to fit over the plate. Gently peel off the wax paper and discard. After filling the pie with the apple mixture you will repeat the procedure for the second crust.
for the filling:
3/4 cup sugar
1/4 cup flour
1/2 tsp cinnamon
1/2 tsp nutmeg
dash of salt
6 pared and sliced apples (I usually use 4 Braeburn and 2 Granny Smith for variety)
2 TBS butter
Heat the oven to 425 F. Cut the apples into chunks of varying sizes (this allows the smaller apple chunks to melt into lovely apple goo while the larger ones have a bit more tooth). In a bowl, stir together the nutmeg, cinnamon, salt, and sugar and then add to the apples and stir together. Prepare the crust and line the bottom of a 9" pie plate. Place apple mixture into the plate and dot with butter. Add the top crust and fork or crimp the edges. Make a few slits in the top to release the steam. Bake at 425 F for 40-50 minutes, or until the juice begins to bubble through, or a fork inserted through one of the slits in the top crust proves that the apples are yielding but not mushy. This pie actually gets tastier overnight, but most likely will not last that long, so I suggest you make two.
mcstabbypants' Incredibly Orangey Chocolate Wafer Cookies
This is a recipe I adapted from a Joy of Baking cookie recipe because I love chocolate and orange together. The orange really comes out in this but does not overpower the chocolate. If you can find orange oil, just a little bit brings out even more orange flavor.
1 cup all purpose flour
1/2 cup unsweetened cocoa powder
1/4 tsp baking soda
1/4 tsp salt
6 TBS unsalted butter at room temperature
2/3 cup packed light brown sugar
1/2 cup white sugar
1/2 tsp vanilla extract
1/2 tsp orange extract
1 TBS frozen orange concentrate
Optional (but makes it taste even better) – 1/8 tsp orange oil
the zest of one orange
1 large egg white
Sift the flour, cocoa, baking soda and salt into a bowl. Beat the butter until soft, then add the brown and white sugar, the extracts, the orange juice concentrate, optional orange oil and the orange zest and beat on high for one minute. Add the egg white and beat for another minute. Add the dry ingredients and mix just until it comes together. Grab the dough and roll it into a log shape, taking care not to have any hollow bits in the middle. Wrap the dough in wax paper or parchment paper and chill for a few hours or overnight.
When you are ready to bake the cookies, heat the oven to 350 F. Line your baking sheet/s with parchment paper. Take out the cookie log, and using a very sharp knife or string, slice the log into wafers that are approximately ¼ inch thick. Place the wafers on the baking sheets and bake for 10-12 minutes, until the cookies start to puff up and form tiny ripples in the top. Slide the parchment paper onto a wire rack and let the cookies cool. They keep for about 10 days in an airtight container. You can also make them into amazing orange chocolate oreos.
mcstabbypants' Kjøttkaker med Brunsaus, or Norwegian Meatballs with Gravy
This is one of my all-time favorite things to eat. Kjøttkaker is really tasty, especially served with boiled new potatoes and lingonberry preserves. If you can't get lingonberry preserves in your neck of the woods, they are equally good with currant jelly or jellied cranberry sauce. The name "Kjøttkaker" sounds a little bit like "shit kicker" when pronounced in Norwegian (well, if I'm being honest, more like a cross between "shit" and "shirt", with "kokkeh" added on), and I gotta say, these meatballs definitely kick the shit out of Ikea's.
for the meatballs:
1 lb of ground pork and beef, or pork, beef and veal
3 TBS potato starch (potato flour) – you can also substitute a cup of panko if you can't find the potato starch/flour.
1 egg
1 tsp ground ginger
½ tsp freshly ground nutmeg
1/8 tsp allspice
1/8 tsp clove
salt and pepper to taste
3/4 cup cold water or milk
Combine the ground meat and mix together with salt and pepper. Add in the spices, egg, and onion and mix together thoroughly. Sprinkle the potato flour onto the meat and knead well. Gradually add in the water or milk, mixing constantly. If the mixture seems too dry, add a bit more water or milk. If it seems too wet, add a bit more potato flour. Form the mix into oblong-shaped patties and fry on medium heat in a bit of butter and olive oil, flattening the meatballs just a bit as you cook them, until browned on both sides and cooked through.
for the gravy:
3 TBS butter
3 TBS all purpose flour
2 1/2 cups beef or chicken stock, heated
salt and pepper to taste
2/3 cup milk or cream
Melt the butter. Whisk in the flour and stir until the mixture browns just a bit. Add the stock, stirring continuously. Season with salt and pepper. Add the milk or cream and simmer for 10 minutes. Add the meatballs to the sauce and let them simmer on low heat for a few minutes before serving.
---
There-Was-A-Star-Danced's To Die For Carrot Soup with Ginger and Lemon:
Ingredients:
-1/4 cup (1/2 stick) of unsalted butter
-1 1/2 cup chopped onions
-1 Tbs of finely chopped peeled fresh ginger
-1 1/2 tsp minced garlic
-1 1/4 lbs. medium sized carrots, peeled and chopped (approx 3 cups)
-2 tomatoes, seeded and chopped (approx 1/3 cup)
-1 1/2 tsp grated lemon peel
-3 cups (or more) chicken stock
-2 tbs. fresh lemon juice
-4 tbs sour cream
Directions: Melt butter in heavy large pot over medium-high heat. Add onion; sauté four minutes. Add ginger and garlic. Sauté two min. Add chopped carrots, tomatoes, and lemon peel; sauté one minute. Add stock, and bring to a boil. Reduce heat, cover partially and simmer until carrots are very tender (approximately 20 minutes). Cool slightly. Puree soup in batches in blender and return soup to pot Mix in lemon juice. Season with salt and pepper to taste. Can thin with more stock if desired. Top each bowl with a dollop of sour cream. (makes four servings).
There-Was-A-Star-Danced's As Caramel As You Can Get Triple Caramel Cake
My mom wanted a caramel cake for her birthday this past year. So I came up with this. Caramel to the max.
This makes a 9" 3 layer cake.
Cake:
Ingredients:
-3 cups A.P (all purpose) flour
-2 tsp baking powder
-1/2 tsp sea salt
-2 sticks unsalted butter, room temp.
-2 1/4 cup packed light brown sugar
-4 large eggs, room temp
-2 tsp vanilla extract
-1 1/4 c. whole milk
Preheat oven to 325* Sift dry ingredients. Cream butter and brown sugar together till light and fluffy. Beat in eggs, one at a time. Add vanilla. Beat in, alternating in thirds, dry ingredients and whole milk, until combined.
Split the batter between three greased 9" cake pans. Bake approximately 25 minutes, or until a toothpick comes out dry (but don't overbake it!).
Caramel Filling:
Ingredients:
-2 cups sugar
-12 tbs salted butter, cubed
-1 1//4 cup heavy cream
-1 tsp vanilla
-(potentially lemon juice, keep handy).
Note: If for some reason you do not have salted butter, add 1/4 tsp salt.
Directions:
In small pot, heat the heavy cream, and take off the flame/heat. DO NOT bring to a simmer or boil, just make it warm to the touch. Add vanilla. Do this at the same time as the caramel below, or you risk it getting cold before you need it.
Meanwhile, in a medium sized pot, pour the 2 cups of sugar. Stir in just enough water (approximately 1 tbs) to give it the consistency of wet sand. Over medium-high heat, melt sugar and let it brown. Do not stir. You can tilt the pot around to mix it, but don't stir with a spoon or anything. If the sugar crystallized, add some lemon juice till it turns back into liquid. Once it attains the caramel color you want (I like a nice deep brown), add the butter. Once the butter has melted, add the warmed cream and vanilla. Be careful!!! IT WILL BUBBLE FAST! DO THIS OFF OF THE HEAT!
Set aside to cool.
Salted Caramel Frosting:
Ingredients:
-3 sticks of unsalted butter, softened
-approximately 1/4 tsp to 1/2 teaspoon of sea salt (to taste...don't just toss it in...actually taste it, or you risk making it too salty. And if you accidentally used salted butter, don't add salt, or at least not much).
-6-8 cups powdered sugar
-1/2-3/4 cup of salted caramel filling, completely cool.
Directions:
Beat softened butter. Slowly, add powdered sugar, one cup at a time. Add salt. Add caramel filling. Beat until fully combined. Voila!
To assemble cake:
Remove the cakes from the pans (carefully). Place the first layer on your cake plate. Spread the caramel filling on top of it, nice and thick. Top with the next layer. Repeat process. On top of the third layer, DO NOT add the filling, but starting iling frosting on top, and then spread it over the cake, top and sides. You can decorate however you want.
Here's a pic of the one I made this year. It's not terribly pretty, but considering I made it in a kitchen with no decorating tools, and did it with a fresh spine injury, it's not too shabby! :)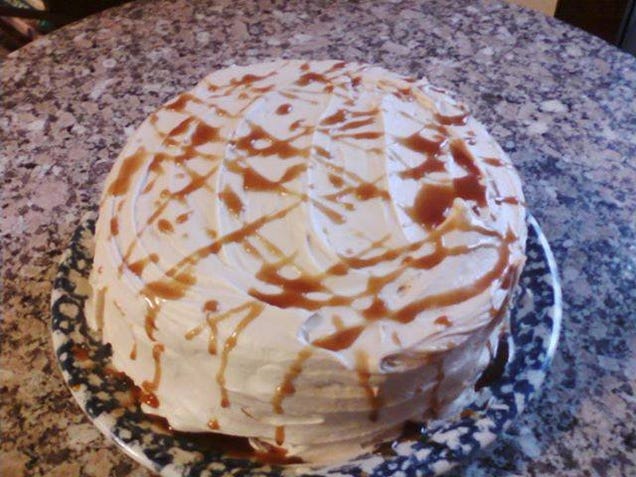 There-Was-A-Star-Danced's Best Goddamn Brined Turkey Ever, and Seriously, the Fucking Giblet Gravy
Okay, take so take your turkey, and remove the giblets, BUT DON'T THROW THEM AWAY!!! Set them aside, in the fridge (don't leave them out in the danger zone, ew gross). In a very large, clean..some sort of container.... (you can use the largest pot you have if it's big enough, or you can buy a plastic tub, or you can use a cooler—just wash it out afterwards!...you get the idea), mix together:
-2 gallons of water
-1 cup of salt
-1 cup of brown sugar
-2 oranges, quartered
-2 lemons, quartered
-6 sprigs of thyme
-4 sprigs of rosemary
-2 cinnamon sticks
and soak the turkey in this brine, covered and refrigerated overnight, or at least four hours.
Now, if you can't fit this large of a container into your fridge, you're gonna have to put a ton of ice into the brine, or somehow chill it, but you don't want to freeze the turkey either. Basically, you want the turkey to be below 40 degrees.
Okay, skip to next day. Preheat oven to 325*
Remove turkey from brine, and rinse the turkey, inside and out. Pat the turkey dry, inside and out. Place breast side down in a large heavy roasting pan, and rub on all sides with butter. Season lightly inside and out with salt and pepper. Stuff the cavity with aromatics:
-1 red apple, chopped
-1/2 onion, sliced
-rosemary
-sage
-thyme
(preferably all herbs should be fresh)
-a stick or two of celery cut in half or thirds (amount depends on size of turkey)
-a carrot cut into two or three pieces
-garlic, peeled and smashed... amount depends on how much you like garlic!
-an orange, with peel, cut into pieces
-a couple bay leafs
note: If you have a small turkey, you may only be able to get a tiny amount of each of these things inside the turkey...that's totally okay. It's just important to get the flavors in!
Loosely tie the drumsticks together with kitchen string. Roast the turkey, breast side down, uncovered, for one hour. After the hour is up, remove from oven, turn over (breast side up), and bast with 1/2 cup of chicken stock. Continue roasting until a thermometer reads 165 in the largest section of the thigh (approximately 2 3/4-3 hrs total cooking time). Baste the turkey once every hour with 1/4-1/2 cup chicken stock.
Meanwhile, while that is roasting, you can make the turkey broth (for the gravy).
Turkey broth:
-1 tbs oil
-reserved giblets
-1 large carrot, peeled and coarsely chopped.
-1 onion, coarsely chopped
-1 celery stalk, coarsely chopped
-1 small bay leaf
-3 cups chicken stock
-3 cups water
Heat the oil in a medium -large heavy bottomed pot, over medium high heat, and add the giblets. Sauté until just beginning to brown. Add chopped veggies and bay leaf to the pan, and sauté until onions and celery are soft. Add stock and water, and bring to a boil. Lower heat to medium-low, and reduce until broth is reduced to four cups. Strain the stock into a clean pot. Chop the giblets and set aside. You can get rid of the veggies from the stock.
Gravy!
-4 cups turkey broth
-1 cup white wine
-4 tbs unsalted butter
-1/4 cup flour
-salt and pepper
Once the turkey is done, yummm, pour reserved pan juices into a measuring cup and skim off the fat. Pour into the four cups of turkey broth, along with the white wine. In a large heavy saucepan, melt the butter over medium heat. Brown the butter just slightly—don't burn. Whisk in 1/4 cup of flour slowly, stirring constantly to make a roux. Keep whisking the roux until it reaches the shade of brown that you prefer your gravy to be (just don't burn it!! Don't make it too too dark). Add the stock gradually, whisking constantly, until it is all combined. It will thicken as it comes to a boil, do not stop whisking. If it still seems really thin, turn the heat lower, and simmer for ten minutes till thickened. Add chopped giblets to the pan, and adjust seasoning with salt and pepper to taste.
---
For pasta layer:
2 eggs, 1.5 cups of flour, a pinch of salt, water if needed
Put the flour and salt in a bowl, add the eggs, and use a fork to beat the eggs and mix in the flour, a little at a time, until a stiff dough forms (not all the flour will mix in right away, so don't force it). Kneed the dough in the bowl, using the left-over flour at the bottom of the bowl to keep it from sticking; if it's too dry/falling apart at this point, add a tsp or two of water. Kneed for a few minutes, until the dough is elastic (it pulls back together on it's own when you kneed it) and a little sticky. Divide the dough into 4 small balls, wrap in plastic and refrigerate.
For the Bolognese Sauce:
1 medium onion, chopped
1 carrot, chopped to match the onion
1 or 2 ribs of celery (I don't like celery, so I do 1 usually)
A handful of garlic cloves (recipe says 3, but Moar Garlic)
Olive oil for the pan
Salt and pepper to taste
2 lbs meatloaf or meatball meat (this is usually a combo of ground veal, beef and pork, but you could just do beef if that's all you can find... or whatever ground meat is on sale that week)
2 6-ounce cans of tomato paste
2 cups of red wine, whatever's in the box that week
water
2 bay leaves
1 tsp (or to taste) thyme
If you have a food processor, process the onions, carrots celery and garlic until it looks like salsa. If you don't have a food processor, just chop everything pretty small. Saute these veggies in a large saute or frying pan oven, or pot that will fit all the above ingredients using a few tablespoons of olive oil, adding the salt and pepper once everything starts to turn shiny and smell good (1-2 minutes). Saute for 5-10 minutes or so, until things start to brown. Stuff will stick to the bottom of the pan, which is just fine. Add the meat(s) and saute until cooked through, then add the tomato paste. I always think tomato paste tastes best if allowed to brown on the bottom of the pan a bit, so clear a spot so it has direct contact with the pan and not just the veggies/meat, then cook it for 3-5 minutes. Add the red wine and scrape up everything that browned/stuck/burnt to the bottom of your pan. That's where the magic is! Cook/boil this whole mess for 5-10 minutes, until the liquid reduces by half. Add enough water to cover everything, toss in the bay and thyme, then cover and leave it alone for a couple of hours. If you need to add more water, that's fine, but don't add too much at once (1 cup at a time at the most); since it's covered, you shouldn't have too much evaporation.
Bechamel Sauce
1/2 cup butter
1/2 cup flour
4 cups milk
1 clove garlic, crushed but not minced
1 tsp salt
black pepper and ground nutmeg to taste (I use a dash of nutmeg and several grinds of pepper, which is probably 1/4 tsp)
Melt the butter in a pan that can hold 4 cups of milk. Add the flour and stir with a whisk. Cook for 2-3 minutes, then whisk in the milk. Add the garlic and simmer for 5-10 minutes until the sauce thickens to the consistency of queso sauce at a Mexican restaurant. Remove the sauce from the heat and add the pepper and nutmeg.
To Assemble (Finally!):
Heat the oven to 4oo F and coat the bottom and sides of a lasagna dish or 9x12 pan with olive oil. Remove the pasta dough from the fridge while you make your bechamel so it has time to come up to room temperature. Roll each ball into roughly the shape of the baking dish you are going to use and keep them covered with a towel or plastic wrap. Place a 1/4 cup of the bechamel sauce in the dish and spread it around, then lay the first pasta layer in the dish. Top with 1 cup of the bolognese sauce and then 1/2 of the bechamel sauce. Layer the next sheet of pasta, then bolognese then bechamel and keep repeating the pattern until you've put the last pasta sheet on, which you only top with bechamel and a sprinkling of Parmesan cheese. Actually you could put Parmesan cheese through all the layers, that would be good too.
Bake uncovered at 400 F 30-45 minutes, until bubbly and starting to brown on top. Let cool a bit (5-10 minutes) before trying to cut it.
Enjoy!
---
Ingredients:
1 lb sausage (bulk)
1 lb hamburger (raw)
1 lb Velveeta
24 oz salsa (pick your hotness!)
1 can condensed cream of chicken soup
1 can condensed cream of celery soup
Tostitos Scoops
Crock pot
Directions:
Cook the sausage and drain.
Cook the hamburger and drain.
Cut the Velveeta into one inch squares.
Combine all ingredients (except the chips!) into the crockpot.
Cook for one hour on high, two hours on low.
Serve on warm with Scoops.
Note: If you can't find scoops, pick a substantial chip! This dip DESTROYS CHIPS.
---
kcunning's Espresso Brownies
Ingredient
Qty.
Unit
butter
1
c
unsweetened chocolate
6
oz
flour
1 1/2
c
baking powder
1
tsp
eggs
4
ea
sugar
2 1/2
c
instant espresso powder
1/4
c
coffee flavored liquer
1/4
c
vanilla
2
tsp
container of frosting

salt

1

1/4

ea

tsp
Instructions
1) Line a 13x9x2-inch pan with foil. Grease. Set aside. Preheat oven to 350.

2) Melt butter and chocolate in small saucepan over low heat, stirring constantly. Cool mixture to room temperature.

3) In a medium bowl, mix flour, baking powder, and salt. Set aside.

4) In a large mixing bowl, beat eggs, sugar, espresso powder, liqueur, and vanilla with electric mixer until combined. Beat in cooled chocolate mixture. Add flour mixture, stirring until just combined. Spread evenly in prepared pan.

5) Bake at 350 for 25 to 30 minutes (don't overbake!). Cool in the pan on a wire rack. Frost brownies. Cover and chill for 2 hours.

6) Before serving, set out and let thaw for 20-30 minutes. Use foil to lift brownies out of pan, and cut into bars.
---
This is a vegetarian dish.
Ingredients
* 2 tbsp oilve oil
*1 large onion
*2 crushed garlic cloves,
*300g mushrooms finally chopped (so no-one realises that they are there since mushrooms are evil.)
*200g unroasted cashew nuts
*200g brazil nuts
*115g cheddar cheese grated (Note: You will need to use a hard cheese, not a soft cheese. Substitutes include mature gouda or similar)
*4 tbsp parmasan cheese, grated,
*1 beaten egg
*2 tbsp chopped chives
*75g fresh wholemeal breadcrumbs.
Pre heat oven to gas mark 4 (350°F). Grease a 4.5 by 8.5 inch loaf tin and line with greaseproof paper. Heat oil in a pan and add onion, garlic and mushroom an cook over medium heat for 5 mins. Put nuts in a processor and chop until in small pieces but not over processed (you don't want them to be powder). Mix everything together including the remaining ingredients (cheeses, beaten egg and breadcrumbs, etc) until well combined. Put in the tin and press down firmly. Bake for 45 minutes.
---
Simple and delicious. Makes about 30 bitesize chocolate balls.
1 Package of Oreos (Original, Vanilla) I prefer vanilla but both are amazing.
1 8 oz package of cream cheese. (I've only used original but feel free to experiment with different flavors though results are not guaranteed if you do)
1 package of Melting chocolate, find it in the baking aisle, this is different from normal chocolate
A chocolate melter, Or some way to melt chocolate (I got this one)
A couple large ziploc freezer bags
A rolling pin
A cookie sheet to place the balls on
Wax paper
Here's what you do
You need to crush the oreos as best you can. Put them in the bag and use the rolling pin to smash them. The goal is to crush any large chunks and get them down to crumbs. Be careful when crushing in the bag, the corners tend to split open and can spill crumbs everywhere, double bag if you must.
Once the Oreos are smashed add the whole packagecream cheese to the bag and mix it with the Oreo crumbs. The goal is to mix it in evenly and you should end up with a dough like blob. Add it in smaller chunks to make the mixing easier. The ratio is 8 oz of cream cheese to 1 package of Oreos.
Put some wax paper on the cookie sheets to keep the balls from sticking. Nobody likes sticky balls
Once you have your dough blob use a spoon and scoop out some dough and roll it into a ball and put them on the cookie sheets. Repeat until all the dough is gone.I like to make them about the size of a quarter-ish. If you want huge balls or tiny balls that's up to you.
Put the balls in the fridge to allow them to chill for about 20 min.
While the balls are chilling, melt the chocolate. Although it is incredibly tempting do not stick your hand in the chocolate and then lick the chocolate off your hand. It's delicious but the end result will be better than hand chocolate.
Once the chocolate is melted take the balls and dip them in the chocolate. Make sure the entire thing is coated and place it back on the cookie sheet. Once all the balls are dipped put them back in the fridge so that the chocolate can harden.
Keep them refrigerated until ready to serve.
Congratulations you've just made The Boulders Chocolate Amaze-balls. Enjoy. Everyone will want to know whats in them, DO NOT TELL THEM, be mysterious and vague. (This isn't a requirement, but I've taunted my friends with this recipe for years.)
Also depending on the maturity of your party, be prepared for countless ball jokes, these are encouraged.
---
My friends regularly demand that I make this.
1, 1-lb butternut squash, cubed, peeled, etc
1.25 c chicken broth (veggie will be fine if you're like that)
1.5 c whole milk (you could probably go less fattening but this is the holidays we're talking about)
4 garlic cloves, peeled
2 tbsp sour cream
1 tsp cayenne (more if you're me)
2 tsp paprika
1 tsp kosher salt
2 tsp black pepper
1tsp nutmeg
6 oz gruyere, grated
3 oz romano, grated
2 tbsp parmesan, plus 1 tbsp for topping
1 lb noodles (I prefer rotini)
1 tsp olive oil
1/2 c panko or bread crumbs
1/2 c chopped fresh parsley (this is a rough estimate)
Bonus points: Bacon, like 8-10 strips, cooked, drained, chopped up into bits. Retain a handful of bits for topping.
Preheat oven to 375 F, coat a glass baking dish in cooking spray. 13x9ish should work.
Boil squash, broth, milk, garlic in a saucepan, then reduce to a simmer. Once the squash is tender, stick that shit in a blender! Add sour cream, and all the spices, make sure to leave a place for steam to escape (if you don't have an immersion blender). Make it smooth like a baby's bottom.
Put it in a bowl and stir all of the cheesy goodness in, except for what you have reserved for the topping. It will melt beautifully.
Cook pasta al dente, drain (really well), and add to smooth cheesy squash sauce. Mix it up! Put it in your baking dish.
Sautee up your breadcrumbs for like 20 seconds in hot olive oil. Remove them from the heat, sprinkle on the mac n cheese with the remaining parmesan and bacon bits (if going for bonus points).
Bake until bubbly, maybe 20 minutes, and sprinkle the parsley on just before serving. BOOM.
---
Dudeimist's Liquid Escape from Racist Mom
1/2 ounce pure maple syrup, preferably Grade A Dark Amber
1/2 ounce fresh orange juice
1/4 ounce fresh lemon juice
4 dashes of bitters
1/2 orange slice
4 ounces bourbon
Ice
1 1/2 ounces seltzer
4 mint leaves
In a a rocks glass add syrup, bitters, and all juices. Add orange slice, and mint, muddle well. Add bourbon and mix. Top with ice and seltzer. Taste, add more bourbon, ignore mother.
Dudeimist's Thanksgiving Special "Goddamn Cowboys Are Losing Again"
2 cups of fresh squeezed Grapefruit juice
1 ice cube tray
1 handle of blanco tequila
1 case of lime Topo chico
Pour Grapefruit juice into ice cub tray, freeze over night. Once the cowboys start losing take 2 grapefruit cubes and place them in a collins glass. Fill reaming glass with regular ice. Fill 1/4 with tequila, top with Topo Chico, add a pinch of salt, stir, and drink heavily while trying to convince yourself Tony Romo isn't as bad as everyone says.
---
PlentyOfPaper's Roasted Garlic Brussel Sprouts with Bacon and Blue Cheese
1 package of brussel sprouts (you'll want at least a pound...)
3 medium cloves of garlic (I usually put more because I'm a garlic fiend but y'know, this is for normal people)
thick-cut bacon (the good stuff, c'mon now) - optional!
olive oil
salt and pepper
blue cheese or gorgonzola, depending on your preference/availability
Preheat oven to 425 degrees.
Wash sprouts. Cut in half. If some are too big, cut into quarters so they're all roughly the same size. Spread them on a baking sheet.
Mince garlic. I love garlic so I like to throw in some smaller whole cloves along with the minced. Add to your sprouts.
Mince bacon (I use about 3 strips of the really thick good stuff - it's more of a flavoring/garnish). Add to sprouts.***
Toss with olive oil so everything is coated but not swimming in the stuff. Salt and pepper.
Bake at 425 for 30-40 minutes. I never get a hang on the timing, but I just start checking at 30 minutes. Remove from oven when the edges are just starting to brown.
Salt and pepper. Garnish with blue cheese crumbles.
***I like to roast the bacon with the sprouts because it infuses the whole dish with smoky bacony goodnessness. HOWEVER, if there's a vegetarian in your group of bacon-lovers, you can mince the bacon and render it (save that bacon fat for something else!) to serve on the side as a garnish with the blue cheese - or omit it completely.
Mochi Cake
This one's a little esoteric and it's not technically a "holiday" recipe but I made it for a Christmas potluck and people went bananas - I've been asked to bring this cake to family get-togethers ever since. It's incredibly easy (except, maybe, finding the ingredients) and it's also also a gluten-free recipe, which is cool.
Mochi is an Asian confection made from glutinous rice flour (it's not referring to having gluten, but rather the stickiness of the rice). This is a "cake" in that it's fluffier than traditional mochi, which tends to be more dense, but it's still chewy from the rice flour.
1 stick butter - melted
2 tsp vanilla
2 c sugar
4 eggs, beaten
2 tsp baking powder
1 16 oz package of glutinous rice flour (the brand "Mochiko" is pretty good and can be found at basically any Asian grocery store) - it must be glutinous rice flour or the package must specify that it is for mochi.
1 12 oz can of evaporated milk (which is about 1.5 cups)
1/2 c water
1 13 oz can of coconut milk
Preheat oven to 350 degrees.
Dump all ingredients into a bowl. Mix well until batter is smooth. Pour into a well-greased (or butter-and-flour-ed) bundt pan or 2 loaf pans. Bake until toothpick inserted comes out clean.
Let cool until just warm to the touch. Slice with a sharp, hot knife. Serve with vanilla bean ice cream or real whipped cream.
(To serve the next day, slice, pop in microwave and heat it up a tad. Serve with vanilla bean ice cream.)